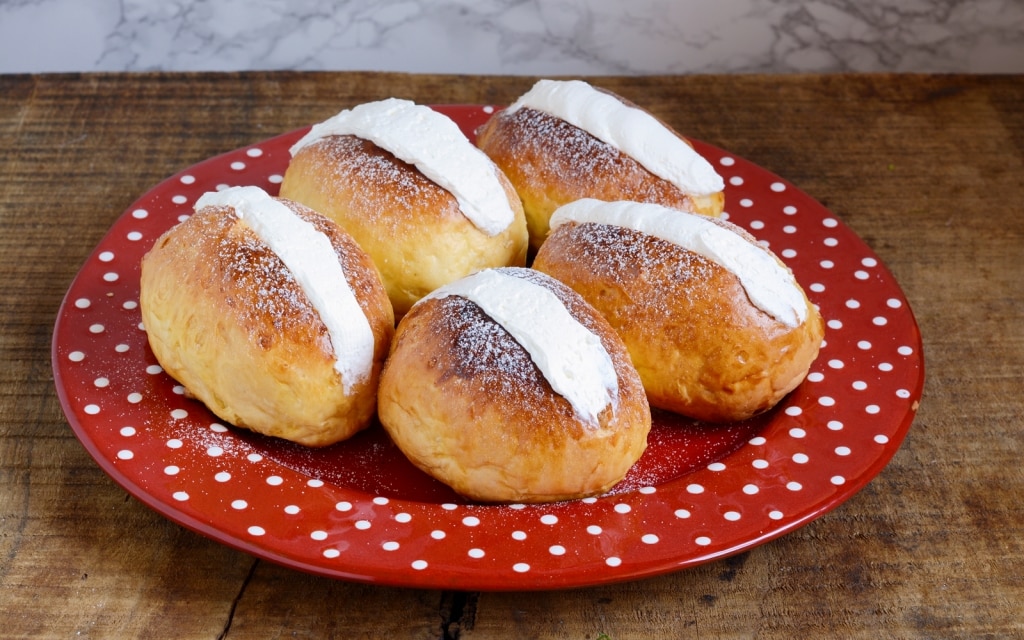 Maritozzo is a dessert of the Lazio and Roman tradition.
Soft sweet rolls usually served with whipped cream (but also with ice cream).
INGREDIANTS
FOR THE YEAST
50 g of flour 00
50 ml of water
5 g of brewer's yeast
1 teaspoon of sugar
FOR THE DOUGH:
200 g of Manitoba flour
20 ml of milk
50 g of sugar
40 ml of seed oil
1 yolk
zest of an orange
TO BRUSH:
1 yolk for brushing
1 tablespoon of milk
TO DO:
200 ml of whipping cream
To prepare the Maritozzi with cream it is good to start with the leaven, dissolve the brewer's yeast in the water together with the sugar and flour. Let rise for about 1 hour.
In a bowl, add the sugar, milk, oil and flour to the egg.
Then add to the mixture, the leavening and the orange zest. Knead the dough until it has a soft and elastic consistency.
Let the dough rise for at least 4 hours in a warm place. Form some elongated rolls and place them in a baking tray lined with parchment paper and let them rise for at least 40/50 minutes.
When the Maritozzi have risen, brush them with egg yolk and milk and bake at 180 degrees for about 15/20 minutes. When they are cold, fill them with the whipped cream.
If you want to buy Italian products you can go up www.deliveryitalianfood.com. Numerous offers await you!
Enjoy your meal!