The anchovies in the pan are a typical dish from Campania that is prepared by removing the heads of the anchovies, washing and drying them. Discover all the steps of the recipe.
Ingrediants
Anchovies (anchovies) 600 g
4 cloves garlic
Parsley 70 g
Fennel seeds 20 g
Extra virgin olive oil 3 tablespoons
Half a glass of white wine
salt
pepper
Capers 40 g
Tomato puree 100 g
Basil 6 leaves
Sheep cheese 30 g
Breadcrumbs 30 g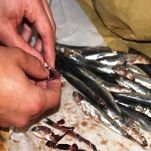 Clean the anchovies by removing the head and the entrails, but do not remove the plug, wash them quickly, and leave them in a colander.
Once the anchovies have lost the excess water, dry them carefully and arrange them radially in a special pan.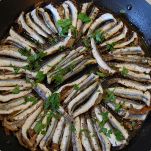 Sprinkle the chopped garlic, parsley and fennel seeds on top, season with salt and pepper, sprinkle with the wine and pour in the oil.
Add to taste, before cooking 40 g of chopped capers, 6 basil leaves, 100 g of tomato puree, 30 g of pecorino and 30 g of breadcrumbs.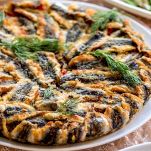 At this point, place the bowl in an oven previously heated to 200 ° C for 10 minutes. This dish should not be served too hot, so after cooking let it rest for a while.
If you want to buy Italian products you can go up www.deliveryitalianfood.com. Numerous offers await you!
Enjoy your meal!