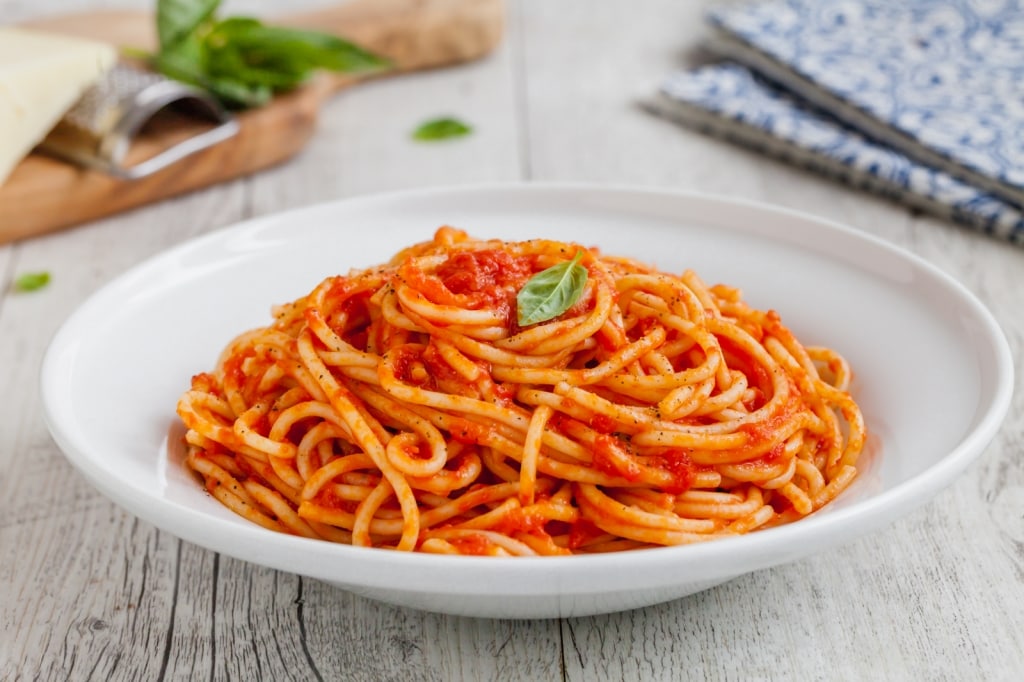 Spaghetti with tomato sauce is one of the symbolic dishes of Italian cuisine. The most popular pasta shape, the sauce made with tomatoes, extra virgin olive oil and basil for a recipe that satisfies everyone, always. For lunch or dinner, with family or friends.
INGREDIANTS
360 g of spaghetti
600 g of peeled tomatoes
Grated Parmigiano Reggiano DOP parmesan
1 clove of garlic
fresh basil
salt
black pepper
To prepare the spaghetti with tomato sauce, first of all dedicate yourself to the sauce: in a saucepan, season the oil with the garlic clove cut in half and deprived of the core. Add the whole peeled tomatoes, add salt, cover and cook over low heat for 30 minutes. After this time, remove the garlic and pass everything through a vegetable mill. You will need to get a pulpy sauce.
Put it back in the saucepan and let it thicken, uncovered, for another 10 minutes. Meanwhile, boil the spaghetti al dente, drain and transfer them directly to the saucepan with the sauce and mix.
Serve and complete with a leaf of basil and freshly ground pepper. Abundant sprinkling of Parmigiano Reggiano DOP parmesan. Serve the spaghetti with tomato sauce immediately hot.
If you want to buy Italian products you can go up www.deliveryitalianfood.com. Numerous offers await you!
Enjoy your meal!