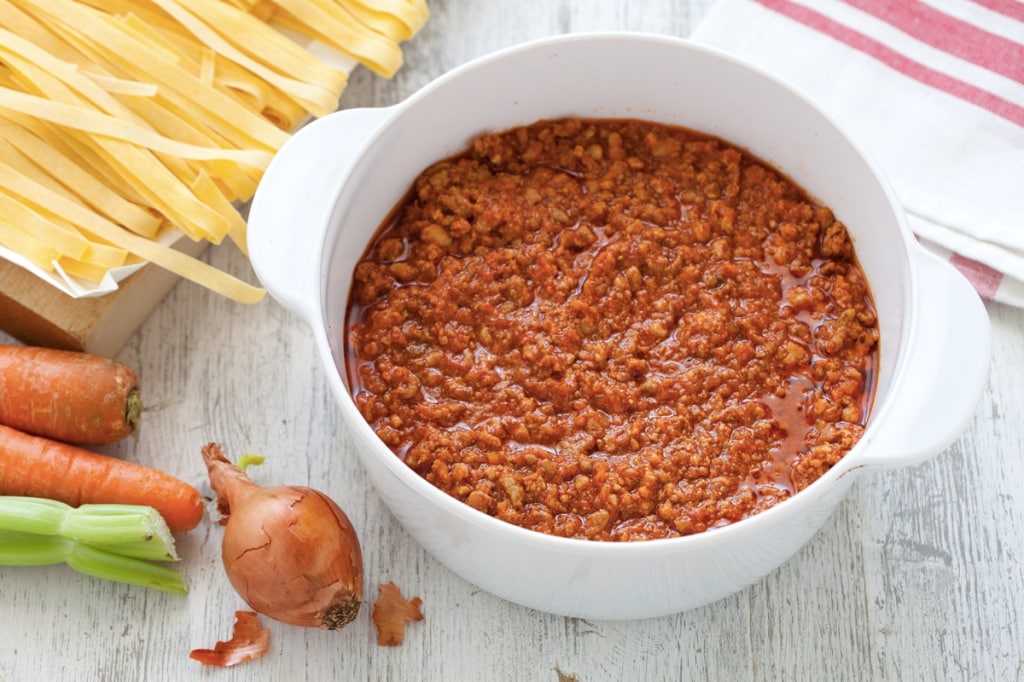 Raise your hand if you don't adore Bolognese sauce! So rich, dense and tasty, it is the condiment par excellence for tagliatelle and lasagna. True institution in Emilia Romagna, let's find out how to do it in the illustrated steps of this tasty traditional recipe.
INGREDIANTS
1 small onion
1/2 stick of celery
1 small carrot
150 g of minced bacon
250 g of minced pork loin
350 g of ground beef muscle (half folder and half scanello)
1/2 glass of dry white wine
1 glass of whole milk
400 g of tomato sauce
2 tablespoons of tomato paste
extra virgin olive oil
1 knob of butter
coarse salt
pepper
Start preparing the Bolognese sauce from the sauté. Finely chop the celery, carrot and onion with a knife. Heat the oil and butter in a heavy-bottomed saucepan, add the vegetables and cook them slowly over low heat.
Add the bacon and, after a couple of minutes, the minced meat. Brown over high heat, stirring constantly and shelling with a spoon.
Add the white wine and let it evaporate. When you no longer smell the alcohol, add the milk and let it absorb over medium heat, stirring occasionally. Season with salt and freshly whipped pepper.
At this point add the tomato puree and the concentrate, stirring with a spoon to mix. Bring to a boil, cover, without sealing with the lid, and cook over very low heat for at least 2 hours. The Bolognese sauce is ready to enrich your dishes.
Enjoy your meal!
If you want to buy Italian products you can go up www.deliveryitalianfood.com. Numerous offers await you!