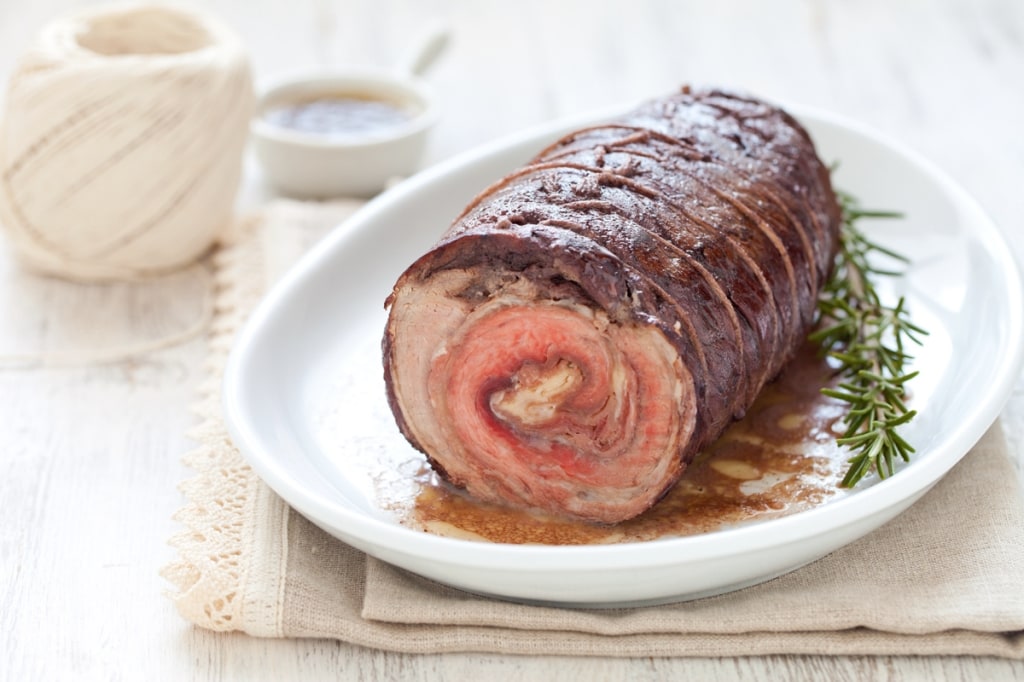 A symbolic recipe of Emilia, the Rosa di Parma combines three of the main ingredients of the area: Parma ham, Parmesan and Lambrusco. A second substantial meat dish where the beef fillet contains the typical flavors of our excellences.
INGREDIANTS
800 g of beef fillet in a single slice already beaten by the butcher
200 g of sliced Parma ham
60 g of flaked Parmesan cheese
1 sprig of rosemary
2 tablespoons of extra virgin olive oil
20 g of butter
1 glass of Lambrusco
1/2 glass of dry Marsala
1 clove of garlic
1 dl of fresh cream
salt
pepper
To prepare the Parma rose, start by spreading the meat on the work surface, open it, cover it with the Parma ham and the flaked parmesan.
Roll everything up and tie tightly with kitchen twine.
Season with salt and pepper, then brown the meat in a saucepan with the oil and butter for about 10 minutes over high heat, turning the roast often and taking care not to pierce it.
Add the crushed garlic clove, rosemary and blend with the two wines. Let the alcoholic part evaporate then cover and cook for 25 minutes, turning the meat from time to time.
Remove the fillet from the saucepan, wrap it in aluminum foil and reduce the cooking juices for a few minutes together with the cream over high heat.
Untie the meat and cut it into slices: it should be slightly rare inside. Serve the Parma rose with the sauce.
Enjoy your meal!
If you want to buy Italian products you can go up www.deliveryitalianfood.com. Numerous offers await you!